Today I'm happy to share with you something completely different: a review of Cook'n recipe organization software. I was trying to win this software in giveaways for quite some time, so when I saw that they were looking for reviewers on Tomoson.com

I jumped at the chance.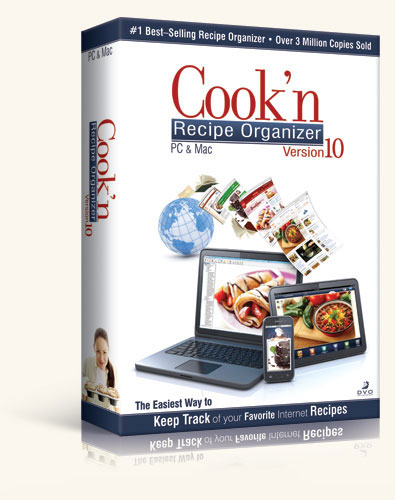 I love to cook, but unfortunately while I do love to organize things, recipes fall into that fine category of things I call "a mess". Basically, I usually get so busy cooking that when I'm done with a recipe, I just usually throw it back in my binder wherever it happens to end up. I do use a lot of cookbooks, but I also print out a lot of recipes from the Internet. Since I'm just pla

in messy at times, this means a lot of my paper recipes have stains, wet marks, etc. on them.
This is why Cook'n is just great for me! I can back up all of my recipes and find new recipes within this software
, but better yet, all of my Internet recipes can be found in one place! No more days of trying to remember which

Web site I found a recipe at.
Here's what I like about the software:
-Easy Installation
-Easy quick download so you don't have to wait to physically get the software. Minus if you do prefer physical ownership.
-comes with a getting started guide which is easy to read
-I LOVE their mission statement. If I rated on stars or numbers I would give this company 10 out of 5 stars just for their mission statement.
-You get a code for a free eCookbook when you register. Tons of options to chose from. I decided to get the Cook'n For Every Holiday cookbook since the holidays are coming up and I love finding new recipes to make into new traditions!
-install of the cookbook was very quick and easy. I even goofed and installed while Cook'n was already running. Normally, this isn't something you want to do with computer software but Cook'n recognized the update immediately and there weren't any problems. Fantastic!
-search is very easy to use and I like that it is contained in a separate tab
- let's you search by ingredients
- search by cookbook, category, chapter, menu
-comes with a ton of recipes to get you started right away
- has a built in Internet browser which lets you search the Web for recipes within the software program.
-has a Capture capability which is really neat. easily lets you capture recipes straight from the Internet so you don't have to type them out. let's you store them safely for later so you can print at a later date, go back to them, modify them, etc.
- can be used on multiple computers without paying an additional fee. used on PC, Mac or mobile.
- allows printing to recipe card size, which is a nice option, or you can print to text or PDF file.
- their guarantee is pretty great: 200%!
Here's my only dislike:
You do get popup windows within the Internet browser. The popups can cause a lot of silly browser behavior, including forcing the software to close, resizing the window. One popup in particular kept coming up during a search for rhubarb jello recipes, and kept causing the software to crash. I blame the popup, not the software, but the software really needs some better protection against popups.
With my Computer Science & Web Development background, I just couldn't resist making a few suggestions on what would improve this software:
- a popup blocker within the Web browser
-ingredient substitution option
I don't typically follow recipes exactly, I generally use them as a reference point to get an idea and use my experience to go from there. I've gotten a lot of great ideas already using the recipes found in the Cook'n software: scones, meatloaf, Italian Kaleidoscope bread sticks.
This is one of the dishes I made using a Cook'n recipe: scones with raspberry jam, and I added a side of bacon and breakfast sausage. The recipe called for buttermilk, which I substituted with regular milk because that's what I had. It was very good, and I will definitely be making this again.
I'd like to thank Cook'n for giving me the chance to offer two copies of the software to my readers!
The rules are pretty simple:
1. You must comment on my blog answering the question in the first

field on the form.
2

. You must leave your e-mail address so I can conta

ct all winners.
3. No cheating of course!

I will check!
edit: I'm already having people enter my giveaway without following the rules. These rules are mandatory! If you don't follow the rules, your entries will not count!
I won't require that you follow my blog, Twitter, etc. but it would be appreciated and of course you will get extra entries if you do. Last but not least...
OPEN INTERNATIONALLY!
I would also like to suggest you
follow Cook'n on their Facebook page
because they do monthly giveaways as well as recipe exchanges. Got a blog? Great! Cook'n is also looking for more bloggers to do reviews, and you'll also get to do a giveaway!
Send me an email
and I'll pass along the information.
The giveaway will run for 2 weeks. It will end November 12, 2012 at 12:01AM EST. There will be 2 winners. I will announce the names of the winners on my blog, and I will also e-mail them. Winners will have 48 hours to get back to me before I have to pick a new winner.
Please let me know
if you have any questions about the giveaway, and good luck!
a Rafflecopter giveaway
I received one or more of the products mentioned above for free using
Tomoson.com
. Regardless, I only recommend products or services I use personally and believe will be good for my readers.